The Vacuvane systems are tailored to your individual needs. Whether its a central vacuum system for a car cleaning business or a more complex factory installation. Vacuvane can offer these delivered ready to operate and the benefit that they are virtually maintenance free.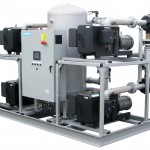 These centralised type of vacuum systems increase reliability, allow maintenance without downtime and eliminate the undesired heat and noise from individual production floors.
This then enhances optimisation, leading to significant reduction of the energy consumption during operation when compared to the operation of individual units. Should you need information or further details of what we can offer then call Vacuvane and we will advise on the next steps.